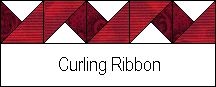 Oh the wonders of some of these techniques!
I wanted to make a curling ribbon border for the Heart of Smallish Stature that was made from the Hugs and Kisses paper pieced pattern that was printed too small. I also want to add this to my Hugs & Kisses finished runner.
Attempt #1
HOWEVER....
there is a slight learning curve...
My first attempt leaves A LOT to be desired...but I did learn that I do not like the lite pink. I need a deeper red for that part.
So I tried a different approach and made a couple blocks using this method that produces two MIRRORED QST blocks..
Well okay that improved the accuracy of everything involved, especially when I added three lines to my sewing machine. A line for the middle, where the needle sews, and 1/4 to each side. This cuts out the need to draw a line on the squares to be sewed on the diagonal.
But the last method creates a block I can't use in the ribbon border pattern so i would essentially be wasting half my time and effort.
So I went over to Qnntv.com, which by the way they are having a half off sale on their yearly membership ($12 instead of $24 which is pretty awesome is you ask me), and searched for a method of completing the goal at hand.
I did find a video of
Fons & Porters
.
So then I was thinking I might need to get a
QST ruler
, if only to save my sanity.
But it's just a matter of a bit of math really. I just haven't figured it out quite yet. All my squares were 2 7/8's. When two QST's are sewn together, they shrink because of the 1/4 seam and become quite a bit smaller than the half triangle of the main ribbon fabric. So I just need to subtract that 1/4 from the square the half-triangle is made from, right?
Well, I'm still trying to figure it out, and figure out an efficient method of piecing them all together.
Any tips you could offer me?
Until next time...
***All content is Copyright year and date of posting, and are the sole property of C4G/CCW unless otherwise noted. All rights reserved. Unauthorized reproduction of any part of this website(text, photo's, etc)is strictly prohibited(linking to the post is OK).***